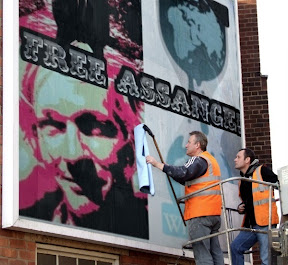 Protests commenced today in Sydney, Australia in defense of Julian Assange, founder of WikiLeaks. With claims of sexual assault charges looming, protesters deem the timing of such accusations as a violation of freedom of expression.
While the country of 'Freedom of Speech' has its own politicians demonizing Assange, few are at his defense.
Ron Paul has staunchly defended the once elusive Mr. Assange, but now even Russian Prime Minister Putin was asked what he thought of a US diplomatic cable that called him the "alpha-dog" ruler of Russia.
Putin replied:
"Do you think the American diplomatic service is a crystal clean source of information? Do you really think so? If it is a full democracy, then why have they hidden Mr Assange in prison? That's what, democracy?"
Using a Russian equivalent of the expression "the pot calling the kettle black" he added "maybe other people's cows can moo, but not yours."
Assange has also been defended by the president of Brazil. Luiz Inácio Lula Da Silva said the arrest was "an attack on the freedom of expression," and criticized other governments for staying silent.
Assange, at the present time is behind bars in a London prison, and is expected to be charged with spying by US prosecutors. His legal team says the US decision to charge him with spying for his publication of secret documents is 'imminent'.
The said documents involve both America and other countries' diplomatic services which a US military man obtained, then handed them to WikiLeaks. The justice department had no comment:
The controversial move appears to circumvent legal opinion that Mr Assange has committed no crime in the US, but Washington is under enormous pressure to hold him responsible for the world-wide embarrassment caused by diplomatic comments in the documents. US Attorney General Eric Holder confirmed recently a criminal investigation had begun, claiming the leaks put the US at risk.
With America in an uproar over the release of the cables, US politicians are trying to conjure up charges against Julian Assange. Even Vladimir Putin isn't shaken up, and they have more secrets in Russia than most.
As for the charges of a sexual nature, it's not a rape charge but more of a draconian law — Mr. Assange is charged with having sex without a condom which brings a minimum of two years in prison in Sweden.
Assange is in solitary confinement without use of a computer.
Spying/espionage:
Espionage or spying involves an individual obtaining information that is considered secret or confidential without the permission of the holder of the information. Espionage is inherently clandestine, lest the legitimate holder of the information change plans or take other countermeasures once it is known that the information is in unauthorized hands.
Espionage is usually part of an institutional effort by a government or corporation, and the term is most readily associated with state spying on potential or actual enemies, primarily for military purposes.
Who is the spy, Mr. Assange or our government? By this definition, it's not Julian Assange.
In 2006, he pleaded guilty to 24 charges of hacking and was fined $2,100 in Australia, then was released on bond.
Assange's mission is to facilitate the free flow of information and free use of computer tools and open the gateway to transparency worldwide.
For Fox fans:
"In 1958 a young Rupert Murdoch, then owner and editor of Adelaide's The News, wrote: "In the race between secrecy and truth, it seems inevitable that truth will always win."
On the same network Murdoch owns, Newt Gingrich called Mr. Assange an "enemy combatant" and called for WikiLeaks to be shut down by the NSA. Ironic isn't it that Rupert Murdoch's father fought censorship when the British tried to shut him up and Gingrich uses Fox to embrace it.
Infographic by Visual News
-Dead Press- Journalism that's not sold-out!